Humans are not made just to stand and work
---
Standing problem
[Hazards 91, August 2005]
Millions of UK workers spend most of the working day on their feet. Hazards editor Rory O'Neill warns there are serious health reasons why they shouldn't stand for it.
Executive summary
• Over 100 years after UK doctors warned of the occupational health risks of prolonged standing at work, millions of UK workers are still compelled to stay on their feet for most of the working day.
• Individuals spending most of the day on their feet every working day are at greater risk of health problems including varicose veins, poor circulation and swelling in the feet and legs, foot problems, joint damage, heart and circulatory problems and pregnancy difficulties.
• A Hazards survey of UK union health and safety officers found widespread problems from standing at work. Unions representing shopworkers, teachers, library staff, production line workers, bank workers, warehouse staff, museum workers, school supervisors, train drivers, printers, hospitality and casino workers and engineers all reported standing-related health problems experienced by their members.
• More than 11 million UK workers, half the UK workforce, could be facing health risks caused by prolonged standing.
• Health statistics suggest hundreds of thousands of people in the UK could be suffering health problems related to prolonged standing. Almost 200,000 report lower limb symptoms caused or made worse by the job.
• Lower limb disorders cause over 2 million days sick leave a year.
• Chronic heart and circulatory disorders are linked to prolonged standing at work. Prolonged time in an upright posture at work may cause hypertension comparable to 20 years of aging.
• There has never been a Health and Safety Executive prosecution for a breach of the current health and safety regulation covering provision of seating at work. Legal protection for many workers was better in 1917.
• The law requiring provision of seats in certain circumstances is being routinely ignored.
• Some of the UK's largest companies in sectors from retail, to manufacturing to health care to the hospitality trade are refusing to provide seating for their staff.
• Most jobs do not require standing – the proportion of workers standing most of the time is much lower in Sweden and many other countries. Simple job or workstation design can make it possible to reduce the requirement to stand.
• Workers may be reluctant to use seats because they fear this will be interpreted as laziness by managers or rudeness by clients.
• Workers in lower status jobs are far more likely to be required to stand for long periods. Workers in higher status jobs are much less likely to be required to stand for long periods without access to a chair.



INTRODUCTION
---

Stand and deliver

In the 1870s and 1880s, at the height of the Victorian era, doctors in Paris, London and New York began to report large numbers of "shop girls" suffering foot ailments caused by prolonged standing in unsuitable shoes (1).

Concern was so great the physicians were moved to "launch campaigns to reform women's dress and to enact statutes requiring employers to provide seats for their female employees so they would not be compelled to stand" all day (2).

Dr Arthur Edis, in a letter to the Times on 7 November 1878, called for an end to "slavery in the West End", warning of the dire health consequences for London's shop assistants of constant standing. Two years later, the Lancet launched an editorial campaign against "this cruelty to women" (3). Even then it wasn't news. Bernardino Ramazzini, the "father of occupational medicine," called in 1700 for a reduction is the amount of work requiring constant standing (4).

Today, the "cruelty" continues. In Britain's meet-and-greet, have-a-nice-day service sector, major UK retailers still insist staff stand and deliver. And workers from machine operators to casino dealers, postal sorters to laundry workers can spend almost all their working day on their feet.

And it is not just their feet that suffer. Prolonged standing at work has been linked to health problems including foot, leg and back pain, varicose veins, circulatory problems, including a possible increased stroke risk, birth defects and difficulties in pregnancy. It could even affect your mental health.

Work at war

During World War I, the health of munitions workers became an issue of great importance to the government. Fit workers were at a premium, and exhausted workers weren't good workers.

Under emergency war powers, the Secretary of State at the Department of Munitions issued an order requiring firms to make reasonable provision for "the supply and use of seats in workrooms."

'Health of the munition worker,' a government report published in 1917 (6), noted: "The object of such a provision is not to secure that all work should be done seated, since a sedentary life has its own disadvantages, but rather that means should be provided for varying the position, wherever possible, and for occasional use when the work necessitates a standing posture."

Earlier still, the Shops Act of 1912 required the provision of seats for shop assistants.

In 2005, millions of UK workers, including substantial numbers in the retail and manufacturing sectors and employed by major UK companies, are being told they should spend most or all of their working day on their feet.


Suggested designs for adjustable seats, 1917
At risk jobs include:
•
Retail staff
•
Catering/waiting staff
•
Machine operators
•
Teaching staff
•
Assembly line workers
•
Construction workers
•
Checkout operators
•
Hairdressers/barbers
•
Casino dealers
•
Dental staff
•
Postal workers/sorters
•
Traffic wardens
•
Industrial laundry staff
•
Bar/hospitality staff
•
Health care workers
•
Museum staff
•
Nursery staff
•
Library assistants
•
Reception staff
•
Warehouse staff
•
Meeter-greeters
•
Canvassers
•
Bank staff
•
Cleaners
•
Flight attendants
•
Ticket collectors
•
Janitorial staff
•
Maintenance workers
•
Security workers
•
Cabin staff with ferry operators.
•
Dockers
•
Floor walkers - Jobcentreplus
•
Printers
•
Laboratory technicians
•
Firing range instructors
•
Leather cutters
•
Personal trainers
•
Baggage handlers
•
Dispensers in doctor's surgeries
•
Gardeners
•
Dot com picker (Supermarket
internet shopping)
•
Hair stylist
•
Pharmacy technicians
•
Hotel desk clerk
•
Printing press workers
•
Seafaring industry
•
Engineers
•
Florists
•
Supermarket meeters and greeters
•
Optician staff
•
Veterinary technicians and surgeons
•
Police officers
•
Gym instructors
•
Prison officers
•
Refuse loaders
•
Invigilators
•
School dinner staff
•
Theatre ushers / front of house staff
•

Factory work
Tell Hazards if your job is missing from the list.
European studies suggest between one-third and half of all workers spend more than 4 hours a day on their feet, either standing or walking (5). This means more than seven million and possibly as many as 11 million UK workers could spend at least half their working day on their feet. Some, like machine minders or retail workers hemmed in behind checkouts, sometimes have scarcely the room or opportunity to move their feet at all.
Although this is a major health and safety and comfort issue for millions of UK workers, there has never been a Health and Safety Executive prosecution for a breach of the current 12-year-old health and safety regulation covering provision of seating at work.
HSE's prosecution and notices database contain no records of prosecutions under section 11 paragraph 3 of the Workplace (Health Safety and Welfare) Regulations 1992, the law requiring provision of suitable seats where the work or a substantial part of it can be done sitting. The database reveals HSE has issued just five improvement notices relating to this law.
The database also show no seating related prosecutions under the VDU regulations, and just one improvement notice under these regulations relating to provision of an unsuitable chair.
Sitting comfortably?
The sum total of HSE's enforcement action under Regulation 11(3) of the Workplace Regulations is:
• 22/03/2004: E Meyer & Co (Mentor) Ltd. Improvement notice. Failure to provide suitable seating for employees on the finishing line at a screw and fastener manufacturing firm. Complied with.

• 03/02/2003: Legrand Electric Ltd. Improvement notice. Employer has failed to provide suitable seats for work that could be undertaking sitting. Complied with.

• 27/05/2002: B & S Electronic Services Ltd. Improvement notice. Workstations and chairs for close assembly work all badly adjusted and set up. Evidence of employees adopting awkward postures to fit around work space and fashioning home made repairs to equipment. Improvement notice served to risk assess and indicate timescales to implement improvements. Complied with.

• 17/05/2002: Plastic Moulders (Yorks) Ltd. Improvement notice. Workstation seating provision was plastic garden furniture and therefore unsuitable as it may constitute an ill-health problem. Company purchased seating with adjustable features and lower back support. Complied with.

• 19/07/2001: Aviation & Airport Services Ltd. Improvement notice. Contravention of Workplace Regulations, Regulation 11(3). No seats were provided for workers who could perform their packing duties sitting down. Workers complaining of aching and tired legs etc. Complied with.

HSE's database include all enforcement activity from 1996 to present. HSE notices database • HSE prosecutions database


Standing is not an inevitable part of working life. Dr Finn Tüchsen, of Denmark's National Institute of Occupational Health (AMI), told Hazards: "The proportion of workers standing at least 75 per cent of their working day is 30-40 per cent in Scandinavia and 50-70 per cent in north America."
He pointed out that in Sweden, however – a country with a stellar record on occupational health – a study found only 19 per cent of men and 15 per cent of women aged 20-64 worked standing more than one-tenth of their day (7).
These discrepancies suggest that whether or not a worker is required to stand or not seems to have little relation to productivity considerations.
Professor Karen Messing of the University of Quebec in Montreal (UQAM), the author of several papers on the risks of prolonged standing at work and who has worked in Europe and North America, told Hazards: "A really common reason for workers to stand is 'image'. In the West - but not in Asia, Africa, South America and parts of Europe - standing is thought to convey availability and courtesy; sitting in the presence of customers may be thought rude.
"This can be carried to extremes such that workers are forbidden to sit even if there are no customers in the store. This is where unions become important because both management and customers have to be brought to realise that sales and service personnel whose feet, legs and backs hurt are not going to be giving as friendly, smiling service as those who are feeling comfortable."
Messing concluded: "To my mind, this is a social class problem. No one accuses physicians or lawyers of being rude because they receive their clients while sitting."
A Hazards survey this year of UK union health and safety officers found widespread problems from standing at work. Unions representing shopworkers, warehouse staff, teachers, library staff, production line workers, museum workers, bank workers, school supervisors, train drivers, printers, engineers, cleaners and hospitality and casino workers all reported difficulties experienced by some of their members.
Doug Russell, national safety officer with retail union Usdaw, says his union has "a history of having to fight to maintain the idea that seating should be allowed at checkouts in retail."
The better employers, including Tesco and Sainsbury's, accept "the best practice is to provide a seat and to give the operator the choice to vary between sitting and standing over the course of their shift," Russell said. But others, including major high street firms, do not.
The union is currently in dispute with Boots retail, whose new checkouts, already in use in some stores and set for a national roll-out, are designed for standing use only. "The goods handled by Boots staff are clearly things that can be handled safely while seated so we believe regulation 11 should apply," he said.
"I think personally the law - regulation 11 of the Workplace Regulations - is perfectly clear and straightforward. However we have come across several occasions where employers have tried to remove seats and make sales jobs and checkout work standing only - apparently because it somehow makes for better customer service!"
After the 7 July 2005 London bombings, a major London museum removed the stools used by gallery minders, saying they should be standing or walking round the galleries being more vigilant for "odd" people and activities. The plan was withdrawn within days thanks to union pressure and the efforts of the local PCS safety rep, who presented evidence of the health risks associated with constant standing.
The problem is one that is commonplace in the leisure industries. TGWU regional organiser Nick Grainger told Hazards: "British casino operators have been notorious in their opposition to access to chairs for croupiers, while imposing long, unsocial hours standing at gaming machines."
These Boots staff aren't made for standing
Plans by high street chain Boots to replace checkouts with a standing room only alternative have caused dismay among its staff. Wendy Murphy, an organiser with retail union Usdaw in the north-west, says in a letter to the company's national safety officer, that an offer to provide "perch" seats is not good enough.
She says her members "don't feel these perch seats will make any difference to their discomfort whilst at the stand-up till."
She adds: "Although the idea of the perch is to relieve staff standing constantly whilst serving on the tills, they can only use it inbetween serving customers. This is unlikely due to the high demand of customer use to have any relieving effect on the staff.
"I am told by members there is always a queue of customers so the opportunity to use the perch doesn't arise, therefore making it pointless being there."
She added that the provision of ergonomic matting and the introduction of job rotation did not address the fundamental problem – a workstation with no seat.
Usdaw believes the failure to provide suitable seating is a breach of the Workplace (Health, Safety and Welfare) Regulations, and is seeking support from the local health and safety enforcement agency on the situation in one store in the north-west already using the new tills.



HEALTH EFFECTS
---

Major health problems

Standing most of the working day every working day is not good news for the lower limbs – it can damage joints, make muscles ache and cause problems with the feet ranging from bunions and corns, to heel spurs and flat feet.

The most commonly reported symptoms appear to be discomfort, fatigue and swelling in the legs. Workers required to spend too much time on their feet are at greatly increased risk of pain and discomfort affecting feet, shins and calves, knees, thighs, hips and lower pack.

The Health and Safety Executive's latest estimates of the extent of occupational ill-health in the UK, show musculoskeletal disorders are the most common causes of work-related ill-health, and that 17 per cent of these disorders affected the lower limbs. The HSE figures suggest 192,000 people in the UK are suffering occupational lower limb disorders caused or made worse by their work (8). Lower limit disorders led to 2.2 million lost working days in 2003/04, according to HSE's estimates.

There are many other debilitating and potentially very serious health concerns. "Worsening of existing coronary heart disease as well as varicose veins and chronic venous insufficiency have been associated with prolonged standing. Pain in the lower limbs and feet are also associated," UQAM's Professor Messing told Hazards.

Her studies suggest back pain associated with work is about twice as common in those who stand compared to those who usually work sitting, even after controlling for age and lifting weights. "Pain is never trivial since it is the body's way of telling us that something is wrong and that we should take action," she said.

According to Messing, prolonged standing that is not under the worker's control seems to be the most uncomfortable. "By 'control' I mean if the worker can decide to sit whenever they find it necessary… we would expect that static, constrained prolonged standing would be worst from the point of view of circulation. Too much walking, however, appears to make the feet hurt more."

A 2002 review of 17 studies of the health risks associated with prolonged standing (9) concluded these included chronic venous insufficiency, musculoskeletal pain of the lower back and feet, preterm birth and spontaneous abortions.

Older workers and those employed in heavy manual jobs frequently develop knee and joint pain as they get older, and may become progressively less able to cope with constant standing. Other workers – for example, those with varicose veins caused by pregnancy, with arthritis or who have suffered a back or lower limb injury – may also find themselves in difficulties.

Strong evidence linking prolonged standing at work to an increased risk of heart problems and stroke has recently come to light. Researchers have linked prolonged standing to an increased risk of carotid atherosclerosis, which in turn can cause an increased risk of heart attack and stroke (10).

And a paper presented to a major international conference on work and cardiovascular diseases in March 2005 indicated "prolonged time in an upright posture at work constitutes a risk factor for the development of hypertension comparable to 20 years of aging, which in turn is one of the accepted major risk factors for the development of cardiovascular disease" (11).

Another paper reported evidence that "upright posture at work constitutes a major risk factor of the development of atherosclerosis, comparable to the risk found for traditional risk factors such as smoking, high blood pressure, and high cholesterol." (12).

• painful feet and legs

• swelling in feet and legs

• bunions/corns

• heel problems, including plantar fasciitis/heel spurs

• Achilles tendonitis

• varicose veins (13)

• orthopaedic changes to the feet, including flat feet

• low back pain

• restricted blood flow

• immobilisation/locking of joints

• arthritis in knees and hips

• stiffness in neck and shoulders

• problems in pregnancy and birth defects (14)

• high blood pressure

• heart (11) and circulatory problems (12)





How I got my varicose veins

Jim Marshall started work as an apprentice in heavy engineering in Glasgow in 1963, at the age of 16.

"It was decided that I would become a turner. This meant standing for at least eight hours, sometimes 12, a day operating a turning lathe. Some had wooden duck boards, but often I had to stand on concrete.

"After about three years I first noticed I had a varicose vein running up the inside of my right leg. At that time I cycled and played - not very good - football and thought it was related to sport."

By the time Jim was in his 30s, both legs were covered in unsightly and sometimes irritable veins. "I last worked in engineering in October 1983 when I first became unemployed and then went to college and university. The veins didn't go away and in 1991 at the age of 44, varicose eczema appeared on both ankles.

"After a discussion that involved me relating my work history, my GP suggested that I have the veins removed and said I probably contracted them through standing for long periods on concrete and wood. I had no idea that this could have caused the problem until then." It took two surgeons, one on each leg, around three hours to remove the veins.

"No other members of my family have ever had varicose veins and it is now too late for me to do anything to prevent them," he said. "The problem is that having veins removed when you are relatively young means that others could develop and there are a finite number in your legs. This could lead to serious problems in later life."




WHY STANDING HURTS YOU
---

Demeaning work

Professor Messing's studies have found that workers are far more likely to be required to stand if they are in lower status jobs. These workers also find it difficult to raise issues of their comfort for "fear that clients and supervisors would think they were lazy".

She said: "Unfortunately, prolonged standing may have a lasting effect on their physical health, and the lack of respect associated with standing may affect their psychological health."

In a major international report on "new" epidemics in occupational health published in 2005 (7), in a chapter on the hazards of prolonged, constrained standing, Professor Messing wrote: "The idea that workers may be made to do degrading, demeaning or painful work simply because it is not dangerous is outrageous, yet the current climate… clearly allows usual working conditions to inflict pain and even degradation."

The potentially serious health problems causes by prolonged standing are not taken seriously by occupational health and safety authorities, believes Messing, because the researchers looking at workplace health issues just don't get it – they have "decision latitude" so could stand all day, but could equally well sit, shuffle or sidle off whenever the urge overtook them.

"At the Swedish National Institute for Working Life, researchers are so convinced of the positive effects of standing that some have arranged their computer workstations so as to type standing, although they do not spend all day in a constrained standing position," Messing said.

"One of the researchers was only persuaded to become interested in constrained static standing by a reminder of sensations he had experienced in museums. We have now dubbed this kind of occupational exposure 'museum walking' in order to interest researchers whose own occupational exposures may not have included prolonged static standing" (7).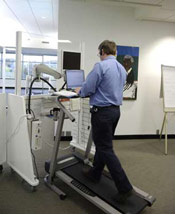 Researchers at the US Mayo Clinic predicted in 2005 that office workstations could be redesigned so workers spend their working day not at a desk, but on an exercise treadmill. A team at the clinic are already working at their own prototype computer treadmills (15).
Researchers can check out when they want. Retail staff behind checkouts only get to escape when the shift ends.
Lengthy legwork in a library
Allie Ewan is a UNISON health and safety rep at a library in Taunton. "My colleagues do suffer from tiredness and fatigue and in particular working on a late night or a Saturday," she told Hazards. "At the main library in Taunton the full time staff start work from 8.35am and finish at 17.35. When working on a late night we work from 8.35 and finish at 19.05."
On late opening days, staff can spend eight hours out of a 10.5 hour shift on their feet. A typical day for a library assistant working on a Monday, Tuesday or Thursday will consist of the following:
8.35
Arrive at work
8.35 to 9.20
Shelving and shelf tidying (standing)
9.20 to 9.30
Morning meeting (sitting)
9.30 to 10.45
Issuing & discharging items and shelving (standing)
10.45 to 11.00
Tea break (sitting)
11.00 to 13.30
Issuing & discharging items and shelving (standing)
13.30 to 14.30
Lunch break
14.30 to 15.30
Processing the library delivery van (standing)
15.30 to 15.45
Issuing & discharging items (standing)
15.45 to 16.00
Tea break (sitting)
16.00 to 17.00
Processing the library van (standing)
17.00 to 17.30
Shelf tidying or shelving (standing/sitting)
Working a late night on a Wednesday or Friday includes
17.00 to 17.30
Tea break (sitting)
17.30 to 19.00
Issuing & discharging items and shelving (standing)
Allie says most of her colleagues consider standing as "part of the job" and will not complain. She says in the smaller branch libraries, where workers are on their own, library assistants will often stand for the whole day. "I do not think it is a growing problem but one that has always existed in libraries but with health and safety awareness growing, one which we now feel more able to challenge.
"Libraries are often the forgotten health and safety hazard and seen as low risk a nice quiet job!"


The health effects associated with prolonged standing will vary with the job – whether for example, you are stood still, required to lift materials or operate machinery, or whether you are required to walk some or all the time.
Several job specific factors can lead to problems (5). Joint compression, caused by joints bearing the whole weight of the body and any load while standing, can lead to wear and tear and arthritis. Muscle fatigue can occur, as both standing and walking require constant muscle work. Prolonged standing can also reduce circulation of blood (venous insufficiency) and other body fluids, causing them to pool in the lower legs, leading to swelling and possibly varicose veins.
ILO's Encyclopaedia of Occupational Safety and Health says varicose veins "are usually associated with long periods of standing in one position without movement, during which the static pressure within the veins is increased. The resultant discomfort and leg oedema often dictate change or modification of the job."
Constant walking, particularly on hard surfaces, can cause progressive damage to bones in the foot, including the heel. With each step, the heel lands of the floor with a force of 1.5 to 2 times a person's body weight.
Some job designs are so lacking they can greatly exacerbate strain on joints and muscles. Badly designed checkouts can require retail workers to stand with their feet fixed while twisting their upper bodies and moving goods. Shopworkers' union Usdaw estimates that a checkout worker lifts up to two tonnes of goods in an average 4 hour shift.
Other jobs even require workers to stand in the "flamingo position", with one leg bearing the body's weight while the other operates a machine pedal. This is not uncommon in textiles and manufacturing jobs, or in some transport jobs, for example train drivers.
Train drivers' union ASLEF told Hazards that train drivers do suffer from knee problems, although it has proved difficult to identify the precise cause. Dave Bennett, national safety officer with ASLEF, said: "Some drivers prefer to stand, at least for part of the driving turn. We try to ensure cabs and seats are designed to be as adjustable as possible, including the option of being able to stand."
Standing on a moving surface has been linked to knee and other joint problems in seafarers.

Bad checkout design is a pain
In July 2005, retail union Usdaw launched a national campaign to reduce chronic back pain in checkout staff. The union says thousands of shopworkers suffer from chronic back pain as they twist and turn lifting up to two tonnes of goods in an average four hour shift at checkout stations that are frequently badly designed.
"There's not many industries where workers are expected to handle two tonnes of products every four hours," said Usdaw general secretary John Hannett. "So it's vital that checkouts are well designed to reduce back problems which currently cost British industry 4.9 million working days every year and result in untold misery for our members."
Usdaw says it has had some success with major retailers in being involved in the redesign of checkout, but the union fears the introduction of 'scan and pack' checkouts in some supermarkets will make the problem worse as staff are forced to lift even heavier products into carrier bags.
Usdaw national safety officer Doug Russell said: "The simple steps to prevent back pain include making sure that operators can swap between seating and standing when they need to, narrower conveyor belts so the goods are carried directly to staff and the ability for checkout operators to slide heavy goods, like cases of beer, straight over the scanner so they don't have to lift them."
Usdaw says early reporting of symptoms, proper treatment and planned rehabilitation can make sure people with back pain can make a successful and pain-free return to work.


No peace in a pod
When the banking chain HBOS - which includes Halifax and Bank of Scotland - decided to replace large reception desks with small "pods", it proved a painful decision for some of its staff. "Receptionists" become "meeter-greeters" with many complaining the new pods required them to spend all or most of the day standing.
Hazards has been contacted by HBOS workers, all members of the union ACCORD, from across Britain. One woman from a branch in the south-east had developed varicose veins and had been "under the hospital for two years." She said: "I have been in tears with it, in agony for two years. It got so bad I couldn't do anything when I got home." The situation only improved recently when a new and more sympathetic manager started at the branch, and a suitable chair was provided.
A worker from a Tyneside branch told Hazards: "I work full time on the Welcome Desk which in reality probably equates to approx 30 hours standing a week - there is a stool but it is actually more uncomfortable for your back than standing although relieves the pressure on the feet for a while! A better designed stool would, I'm sure help - this is not an uncommon problem and I have heard it discussed at union meetings and have also discussed it with my manager."
She added: "I do not actually know how management would react if an individual can't carry out work requiring excessive standing, as fortunately this hasn't, as yet, been an issue that I have come across."
Another, working in the south-west of England, told Hazards: "We used to have a big reception desk, but they have done away with the desk and now we've got little pods that hang out from the wall. There's a high stool but you can't use it. You are supposed to just park your bum on it, but you can't use it because there is nowhere to put your legs. We stand from 9am to 5pm, with an hour's break for lunch."
An HBOS worker in the Potteries said: "I work at a 'tristar', three pods in one. I'm full-time and I'm standing all the time I'm at work. Basically I stand all day from 8.15am to 5.30pm – the only time I get to sit down is for lunch. I work alternate Saturdays too. Even if we had seats we couldn't use them. How the job is done with the pods makes this totally impractical. So many customers say 'I can't believe they don't give you a chair.'
"I get terrible cramps in my legs, at work and at home, and I can't tell you how bad my feet hurt. It is painful to walk and it is interfering with my home life. Anything to do with chores around the house is too difficult, where I might normally go to the gym, I just want to sit down now. I'm worried about varicose veins. I've developed a cluster of little red veins at the back of my legs already. I'm sure it is bad for my circulation.
"The pod was only introduced in April and I thought I might get used to it, but you never do. All my colleagues feel the same. And the customers preferred the old welcome desks too."
A worker from East Lothian, Scotland, said: "As a meeter-greeter, I'm on my feet all day. There's no seat available at all." And an HBOS worker from Bedfordshire said: "I'm employed as a receptionist or meeter-greeter. On Saturdays we don't get a chance to sit at all. There's only a perch stool meant for customers, and that takes no strain off your legs. We get no breaks, and there is no carpet so we get problems."
A meeter-greeter from London said: "Before, the reception area was more comfortable, now we all complain. When I used to be a cashier I had no problems. Now I have varicose veins on my feet. Nobody likes the new pods. The customers complain because no-one knows where to queue and we are so busy particularly on Saturdays there is no chance to sit down."


MAKING A STAND
---
The safe solution
Constant sitting is not the safe alternative to constant standing, infact prolonged sitting is pretty bad for you too. The option to sit, stand, move around and vary the nature of work tasks is the preferred, healthy option.
There are two essential principles of good workplace design: No working posture is so good that it can be maintained for any length of time without variation; and no two individuals are alike, so the workstation has to be adapted to the individuals using it.
Professor Peter Buckle of the Robens Centre for Health Ergonomics at the University of Surrey and colleagues have recommended workers spend no more than 30 per cent of their working day standing (16). Similarly, the Canadian autoworkers' union CAW (17) advises its members that "working on your feet for more than 30 per cent of the work shift can produce health effects, so we must raise these issues in our health and safety committee meetings and at the bargaining table."
CAW adds: "We need to negotiate suitable chairs with backs for workers and more rest periods for those who must stand or walk."
CAW says key objectives of union negotiations should be to:
• Reduce the time spent standing or walking

• Obtain suitable, adjustable chairs

• Negotiate more rest breaks

• Alternate standing and walking with sitting

• Make work surfaces height-adjustable.
According to Professor Messing: "In factory jobs, the new, fashionable modular production sometimes forces workers to stand because they are rotating constantly from job to job. In those cases it would be good to discuss alternatives with the workers. They usually like changing jobs but might want to change less often so they could sit. Revamping the work area might also help."
No job, no pension, no justice
David Craner was employed for 13 years as a school site manager in Weymouth.
A highly qualified UNISON branch health and safety officer and safety rep, he was very aware of safety and his rights. But this didn't stop his employer from terminating the 55-year-old's contract on medical grounds in February 2005 when bad knees, the result of a workplace accident, made it difficult for him to cope with prolonged standing.
He says two operations made very little difference and he now has other problems affecting both legs which make prolonged standing, sitting or bending very painful.
"This accident has cost my job, my tied accommodation, my credit status and my leisure interest," he said. "Being out of work also means that I can no longer be active within my union and six years of training in health and safety to gain a postgraduate qualification have been wasted."
From being employed, highly skilled and active, David is now living on benefits. "I am very angry with the occupational doctor who kept me off work. He has advised my employer not to agree to release my pension early on the grounds I would be capable of doing alternative employment provided that I had the flexibility to stand, sit and move about in order to exercise my legs.
"The employer made very little effort to re-deploy me and I am now on incapacity benefit of £75 per week. The best advice I can offer to anyone in a similar position is to keep a diary of all events and seek advice from your branch officer sooner rather than later."

For workers who are used to doing a job in a particular way at a particular workstation – behind a checkout, the counter at a bank or at a machine – standing may seem like an uncomfortable but inevitable part of the job.
Professor Messing told Hazards: "When we ask workers why they are standing, some explain why the job makes it impossible to sit. For example, in one bank, tellers had to step back to open a money drawer in front of them once every 20 seconds, making it impossible to sit, even though seats were available. This could have easily been corrected by moving the drawer or by putting the money somewhere more easily accessible."
As evidence that improvements are possible in almost any job, she points to the work of the joint union-management safety organisation, ASSTSAS, which successful designed a seat to allow dental hygienists to sit while working (18).
She added: "There is no magic answer that works for all jobs." While studies suggest for some jobs the best solution is to have a comfortable chair the worker can use some or most of the time, for others "a good compromise is a sit/stand chair that is quickly and easily adjustable so that the workers can sit, stand or lean on it as they like, depending on what they are doing at the time.
"Psychologically, sit/stand chairs also help avoid the situation where a standing customer is towering over a seated service worker."
Talking to unions and union reps could make the whole process of finding safe, productive solutions a lot less painful, Usdaw national safety officer Doug Russell told Hazards. He cites the example of Makro, the cash and carry warehouse chain, when it introduced new checkouts. These were basically avenues through which trade customers wheeled flat-bed trolleys heavily laden with bulk buys and where staff scanned items with hand-held scanners.
"Not only was there no seat, there were no belts or counters," said Russell, adding that, at least theoretically, there was no need to handle the goods either. "In practice not all shoppers at Makro are wholesale customers. There are a large number who use the conventional supermarket trolleys and the operator had to lift boxes out of one trolley into another to scan them."
When management realised it was possible for shoppers to hide items between the large boxes, they wanted staff to handle heavy items to make sure no contraband was hidden.
"There were various design problems with the new checkouts and there had been no consultation with us," Russell said. "Several local authorities threatened the company with enforcement action. They spent a lot more money on a report by another ergonomic consultant who recommended major changes including replacing all their supermarket trolleys with a new shallower design.
"They did eventually come and talk to us. Five years later the net result is that in most of their stores 50 per cent of checkouts are now the conventional seated design – for supermarket trolley shoppers – and 50 per cent are the new design."
Better feet without stepping on toes
When Rich Thompson undertook a union health and safety survey in his print shop, there was two stand out results. Workers were getting bad backs and bad feet.
The Amicus-GPM safety rep at Amcor Flexibles Colodense in Bristol found over half of his workmates were suffering from foot or knee problems, ranging from sore heels to aching, itchy feet. He presented his findings to management, who responded immediately and positively.
In a trial agreed with the union, workers were issued with cushioned insoles for their shoes. "The trial with the insoles they supplied has been encouraging and they should now be available to all," said Rich.
Back problems were linked to work on a cylinder wash machine. "The findings were instrumental in getting a new cylinder wash machine," said Rich, "and as a result we would hope to see fewer back injuries."


If you must stand for it…
If part or all of your job requires standing and everything has been done to reduce the amount of time spent on your feet, it is possible to minimise the risks through improved workstation design, job design and flooring, anti-fatigue mats and personal protective equipment (PPE).
Factors to consider include the physical layout of the workstation. The tools and position of keys, controls and displays, for example, determine the body positions a worker has to adopt (19).

Workstation design
Possible workstation adaptations can include:
• Adjustable height work surface. If the work surface is not adjustable, install a platform to raise a shorter worker and a pedestal to raise the work piece for a taller worker;

• room for workers to change body positions;

• a foot-rail or footrest enabling workers to shift weight from one leg to the other;

• elbow supports for precision work;

• padded kneeler in front of workers allowing them to kneel slightly forward while performing tasks in front of them;

• choice to work sitting or standing at will (sit/stand stool);

• a seat for resting if standing is unavoidable.
Job design
Basic principles of good job design for standing work include:
• Provision for worker training on proper work practices and use of rest breaks;

• job rotation among a group of workers;

• job enlargement to give workers more and varied tasks to increase body positions and motions;

• avoidance of extreme bending, stretching and twisting;

• work paced appropriately; and

• frequent rest breaks.
Flooring
Hard, concrete floors are about the worst possible surface. Materials that provide flexibility such as wood, cork, carpeting, or rubber are gentler on workers' feet. Concrete or metal floors can be covered with mats. Mats should have slanted edges to help prevent tripping. Machines should be mounted to reduce vibration through the floor.
Thick foam-rubber mats should be avoided. Too much cushioning can cause fatigue and increase the risk of tripping.

Anti-fatigue mat
Source
OSHA
Anti-fatigue matting
Anti-fatigue matting can be used wherever workers have to stand for long periods. Thicker and softer mats may not be the best as they may increase workers' leg and back fatigue. Mats should be easy to clean and have sloped edges so they don't become a trip hazard. They should be replaced regularly.

Protective equipment (PPE)
The correct footwear is important. Footwear should not change the shape of the foot, have enough space to move toes, have shock absorbing cushioned insoles and heels no higher than 5cm (2 inches).
The acid test of any measures is user opinion – if the workers say it doesn't work, then other solutions must be found.
Tights squeeze for flight attendants
Pinching and ill-fitting tights are causing grief for Australian long-haul flight attendants, raising concerns they pose a health and safety risk.
Complaints about uncomfortable and poor quality garments prompted a Flight Attendants Association (FAAA) national survey in 2005 of more than 1,800 women who work on the Qantas' long haul routes. Issues raised by the union survey include thermal discomfort and the dropping of the gusset causing heat rash and thrush.
"Our members are on their feet for excessive periods of time, they travel through multiple time zones and temperature zones so they need a quality product," said FAAA's Andrew Smedley. "Pantihose is the flight attendants version of protective clothing."

General health and safety duties
Employers have a general duty under section 2 of the Health and Safety at Work etc Act 1974 to do all that is reasonably practicable to protect their workers' health and safety. That should mean avoiding prolonged standing where alternative means of doing the job are possible, particularly if these methods are used successfully by other employers.
Regulation 11 (paragraph 3) of the Workplace (Health Safety and Welfare) Regulations 1992 says: "A suitable seat shall be provided for each person at work in the workplace whose work includes operations of kind that the work (or a substantial part of it) can or must be done sitting." The law says the seat must be suitable for the person using it. It should have a footrest where necessary.
The HSE guide for managers on these regulations says: "If work can or must be done sitting, seats which are suitable for the people using them and for the work done there should be provided. Seating should give adequate support for the lower back, and footrests should be provided for workers who cannot place their feet flat on the floor."
The Management of Health and Safety at Work Regulations 1999 says employers are required to carry out a suitable assessment of the risk to employees and others from work, eliminate risks where possible, or provide suitable control measures where it is not possible (regulation 3).
The Provision and Use of Work Equipment Regulations 1992 say work equipment must be suitable for its intended use (regulation 5).
The Health and Safety (Display Screen) Regulations 1992 also require provision of suitable, adjustable seating.
Both the Disability Discrimination Act and the Sex Discrimination Act can apply in occupational health and safety settings, where employers fail to take adequate measures to accommodate workers.
The Construction (Health, Safety and Welfare) Regulations require provision of rest facilities (regulation 22).
Disability warning to bad employers
Virgin Trains driver Martyn Hazelhurst, 38, was awarded £41,000 in disability discrimination damages at a June 2005 employment tribunal in Exeter.
The ASLEF member claimed that under the Disability Discrimination Act (DDA) the company should have done more to help him to return to light duties after a knee operation on injuries sustained in a rail crash in 2000. The painful injury made it difficult for him to cope with climbing in and out of the cab and operating foot pedals.
Vaughan Gething, of Thompsons Solicitors, who represented Mr Hazelhurst, said: "This is a positive approach by the employment tribunal exactly as envisaged by the disability legislation." The tribunal took the unusual step of saying it would make recommendations in relation to the 'adjustments' that Virgin should make under the DDA to allow Mr Hazelhurst to return to work.
Three senior managers at Virgin Cross Country Trains were ordered by an employment tribunal to attend training in disability rights law. Hugh Dunglinson, employee relations director, Diane Hempsall, head of occupational health and Adrian Bartlett, driver team manager at Virgin's Plymouth depot, were told they must be trained in the provisions of the Disability Discrimination Act (DDA), and in particular the duty to make reasonable adjustments.
Along with training "within 3 months" for the named senior managers, it also ordered Virgin to pay Mr Hazelhurst his basic salary until he can either return to driving duties, is certified unfit for any duties or starts a suitable new job with Virgin.

Precautions when pregnant
The Health and Safety Executive's 'A guide for new and expectant mothers who work' (20) sets out a two step approach to protecting pregnant workers.
Stage one – the initial risk assessment. Employers should identify and eliminate any hazards and risks to women employees. This is a wide-ranging obligation, and includes new and expectant mothers, and potential risks to the unborn child, or to the child of a woman who is still breastfeeding. The risk assessment requirement should take account of all women of "childbearing age", not just those already pregnant of who have given birth.
Stage two - undertake a risk assessment specific to any worker who has informed the employer they are pregnant, or who have given birth in the last six months or who are breastfeeding, based on the initial assessment or any medical advice the worker has provided from their GP or midwife.
The guide adds: "The Management of Health and Safety at Work Regulations 1999 (MHSW) include regulations that protect the health and safety of new and expectant mothers who work. Under the Sex Discrimination Act 1975, if an employer fails to protect the health and safety of their pregnant workers, it is automatically considered sex discrimination."
HSE's 'New and expectant mothers at work: A guide for employers' (21) provides more detail on the risks and what employers must do to avoid them. It says the kind of precautions an employer should consider taking depend on the kind of work, but could include letting a worker sit down if their job involves standing and making sure they have regular short breaks.
And HSE's information sheet for new and expectant mothers in the catering industry (22) says: "Fatigue from prolonged standing or workload involving much physical effort can lead to problems with the development of the baby. Ensure they can take short breaks. Ensure seating is available where possible."
The Occupational Health Centre for Ontario Workers (5) recommends pregnant workers should not be required to stand for more than two hours in a row, and even then floor matting should be provided.
Same jobs, different standards
US autoworkers working on similar production lines discovered some manufacturers banned sitting whereas others gave workers the option to sit.

A 2005 report in 'Solidarity', the magazine of the US autoworkers' union UAW, said: "Many jobs can be redesigned to allow workers the option of sitting while doing their work. And jobs that cannot be modified can be rotated so workers are not always on their feet" (23).
A number of UAW-organised plants have joint union-management ergonomics committees and trained union ergonomics reps. These meet weekly to see how jobs can be changed to eliminate the stresses on workers' bodies.
Bobby Smith, a UAW member at a Visteon plant in Rawsonville, Michigan, stands for half the workday but likes the option of sitting. Standing strains the body more, which increases injuries on the job, says UAW. The option to sit only exists at the plant, which has a joint labour-management ergonomics committee, because UAW demanded management investigate jobs to see how they could be modified.



Photo: George Waldman
SAFETY REPS' CHECKLIST
• Don't accept standing is inevitable – make sure management investigates alternative job and workstation designs

• Ensure all jobs have been subject to risk assessments – walking and standing are work activities that should be considered

• There are few one-size-fits-all solutions – job design and workstations should be adapted to the individual

• Ensure workers have the option to use seats wherever possible

• Where standing is required, ensure workstations have been adapted and work methods reviewed to reduce the risks

• Jobs requiring more standing also require more rest breaks

• Investigate whether job rotation or job enlargement could make jobs better and healthier

• Look at all aspects of the job – lifting, twisting and reaching, for example, could exacerbate problems caused by prolonged standing

• Mats, insoles and other measures can be introduced to make standing work more comfortable, but should only be used in consultation with the union – workers know what works

• Employers must take measures to accommodate injured or pregnant workers, or workers with disabilities.
---
REFERENCES
1. Ames A Jr. Sex in industry: A plea for the working girl. Osgood, Boston, 1875.
2. Linder M and Salzman CL. A history of medical scientists and high heels, International Journal of Health Services, vol.28, no.2, pages 201-225, 1998.
3. Cruelty to women. Lancet, page 729, 8 May 1880.
4. Franco G and Fusetti L. Bernardino Ramazzini's early observations of the link between musculoskeletal disorders and ergonomic factors, Applied Ergonomics, vol.35, no.1, pages 67-70, January 2004.
5. Working on your feet. Occupational Health Clinics for Ontario Workers. www.ohcow.on.ca
6. Health of the munition worker, Health of Munition Workers Committee, Minister of Munitions, HMSO, 1917.
7. Messing K and others. Pain associated with prolonged constrained standing: The invisible epidemic. In: Occupational health and safety: International influences and the "new" epidemics, Eds. Chris L Peterson and Claire Mayhew, Baywood, 2005. ISBN 0-89503-303-8. more
8. Self-reported work-related illness in 2003/04: Results from the Labour Force Survey. HSE, 2005. [pdf]
9. McCulloch J. Health risks associated with prolonged standing. Work, vol.19, no.2, pages 201-5, 2002.
10. Krause N and others. Standing at work and progression of carotid atherosclerosis, Scandinavian Journal of Work, Environment and Health, vol.26, no.3, pages 227-36, 2000.
11. Lisa Dasinger, Krause N, Brand R, Kaplan GA , Salonen JT. Percent time at work in an upright posture associated with 11 year change in systolic blood pressure. Paper presented to the 4th International Conference on Work Environment and Cardiovascular Diseases under the auspices the International Congress of Occupational Health (ICOH), Newport Beach, California, USA, March 9-11 2005.
12. Niklas Krause, Dasinger LK, Brand R, Kaplan GA , Salonen JT: Standing, walking and climbing stairs at work associated with 11 year progression of artherosclerosis. Paper presented to the 4th International Conference on Work Environment and Cardiovascular Diseases under the auspices the International Congress of Occupational Health (ICOH), Newport Beach, California, USA, March 9-11 2005.
13. Tüchsen F, Krause N and others. Standing at work and varicose veins, Scandinavian Journal of Work, Environment and Health, vol.2 no.5, pages 414-20, 2000.
14. Lin S, Gensburg L and others. Effects of maternal work activity during pregnancy of infant malformations, Journal of Occupational and Environmental Medicine, vol.49, no.9, pages 829-834, 1998.
15. Mayo Clinic creates "Office of the future", news release, 25 May 2005.
16. Buckle P and others. Musculoskeletal disorders (and discomfort) and associated factors. In: Corlett N, Wilson J and Mananica J (eds), Proceedings of the International Conference on Working Postures, Zadar, Yugoslavia. Taylor and Francis, 1986.
17. Working on your feet, factsheet, CAW.

18. Guide de prévention des troubles musculo-squelettiques en clinique dentaire, ASSTSAS, 2002. more
19. Prolonged standing: Taking the load off. Workers' Health and Safety Centre, Canada, 2002. more
20. A guide for new and expectant mothers who work, HSE. [pdf]
21. New and expectant mothers at work: A guide for employers HSG122, (Second edition), HSE Books, 2002. ISBN 0 7176 2583 4.
22. Health and safety of new and expectant mothers in the catering industry, HSE Information sheet number 19. [pdf]
23. Have a seat UAW Solidarity magazine, January-February 2005.

BACKGROUND
Society of Chiropodists and Podiatrists more
Workplace health safety and welfare: A short guide for managers. HSE. [pdf]
Workplace (Health Safety and Welfare) Regulations. London Hazards Centre factsheet
Standing at work factsheet, AMWU, Australia [pdf]
Teen worker safety in restaurants, OSHA eTool, USA. more
ILO Encyclopaedia of Occupational Health and Safety guide to occupationally related leg, ankle and foot problems. more
Workplace (Health, Safety and Welfare) Regulations 1992, advice for local authority enforcement officers. Health and Safety Executive/Local Authorities Enforcement Liaison Committee (HELA). more
---
STANDING NEWS
Canada: Prolonged standing at work linked to heart attacks
Workers who stand on the job most of the time are at greater risk of heart disease than workers who predominantly sit, a new study has found. It suggests even after taking into account a wide range of personal, health and work factors, people who primarily stand on the job are twice as likely as people who primarily sit on the job to have a heart attack or congestive heart failure.
IWH news release. Peter Smith and others. The Relationship Between Occupational Standing and Sitting and Incident Heart Disease Over a 12-Year Period in Ontario, Canada, American Journal of Epidemiology, kwx298, August 2017.
More on the hazards of standing at work. Risks 814
Hazards news, 26 August 2017
Hong Kong: Union campaign wins chairs for checkouts
Hong Kong supermarket giant Wellcome is now providing chairs for all on-duty cashiers, after a creative union campaign. The supermarket chain came under fire in January after the Retail, Commerce and Clothing Industries General Union reported that none of the 154 Wellcome outlets surveyed provided seats to cashiers during working hours.
Hong Kong Free Press. Risks 796
Hazards news, 22 April 2017
Britain: Warning! Sedentary work can kill you
Britain: MPs to investigate high heels at work
A call for it to be made illegal for a company to compel women to wear high heels at work is to be investigated by MPs. Over 140,000 people signed a petition to the government calling for the move after temp worker Nicola Thorp, 27, was sent home without pay after refusing to change into high heels.
High heels forum. Petition - Make it illegal for a company to require women to wear high heels at work. On twitter: #heelsatworkinquiry Risks 755
Hazards news, 18 June 2016
Britain: Office workers should spend two hours a day on their feet
Office workers should spend a minimum of two hours on their feet at work – building up to an ideal four hours – in order to avoid the ill effects of a sedentary lifestyle, according to a study co-commissioned by Public Health England. TUC head of safety Hugh Robertson responded: "It is true that sitting down to long can be bad for your health, but so is prolonged standing," adding: "The ideal solution is to give workers control over how much they need to sit or stand."
John Buckley and others. Consensus statement: The sedentary office: a growing case for change towards better health and productivity. Expert statement commissioned by Public Health England and the Active Working Community Interest Company, British Journal of Sports Medicine, published online 1 June 2015. doi:10.1136/bjsports-2015-094618
London Evening Standard. The Guardian. Risks 706.
Hazards news, 13 June 2015
Global: Standing at work is bad for a pregnancy
Standing for long periods at work while pregnant may curb the growth of the developing fetus, new research indicates. Dutch researchers, who published their findings online in the journal Occupational and Environmental Medicine, found women who spent long periods on their feet during their pregnancy, in jobs such as sales, childcare, and teaching, had babies whose heads were an average of 1 cm (3 per cent) smaller than average at birth, implying a slower growth rate, and those who worked more than 40 hours a week had smaller babies than those who worked under 25 hours a week.
Claudia A Snijder, Teus Brand, Vincent Jaddoe, Albert Hofman, Johan P Mackenbach, Eric AP Steegers and Alex Burdorf. Physically demanding work, fetal growth and the risk of adverse birth outcomes. The Generation R Study, Occupational and Environmental Medicine, 27 June 2012, Online First doi 10.1136/oemed-2011-100615. TUC working feet and footwear guide [pdf] • More on the occupational hazards of standing • Risks 562
Hazards news, 30 June 2012
Britain: Reps stand up for the right to sit down
Union reps at the BBC may have won a sit down victory for retail and catering workers after a health and safety investigation at Television Centre. The two reps, members of the broadcast unions NUJ and BECTU, had raised concerns about the removal of stools provided to workers operating the tills in a studio canteen.
NUJ news release • Daily Mail • Risks 468
Hazards news, 7 August 2010
Australia: Deadly grounds for a sit down protest
Prolonged sitting is killing Australian workers – both blue and white collar – and even 30 minutes' exercise a day may be insufficient protection from this growing occupational health and safety hazard. New Australian research shows hours of sedentary activity, like typing emails or sitting at a quality control station, are associated with higher cardio-metabolic health risks that are independent of time spent in moderate-to-vigorous intensity physical activity.
Queensland Safety Conference news release • Risks 410
Hazards news, 13 June 2009
Britain: Stamping out foot problems
The TUC has produced a guide for safety representatives on feet and footwear. Many problems are caused by inadequate footwear. The new TUC guide 'Working feet and footwear' states that workers should be able to wear the footwear that is appropriate to their occupation, working environment, and feet - that means employers should ensure that the risk assessment they have to do by law includes risks to the feet as well as slipping risks.
TUC Guide • Hazards standing webpages • Risks 369
Hazards news, 16 August 2008
South Korea: Union campaign to seat workers
South Korea's largest union umbrella group has launched a campaign to make discount stores and other workplaces provide chairs for workers who are needlessly forced to stand. The Korean Confederation of Trade Unions (KCTU) said the move is to prevent standing-related health problems.
Korea Times • Hazards guide to workplace standing hazards • Risks 349
Hazards news, 29 March 2008
Australia: Caring hurts nurses' feet
Nurses could face an 'epidemic' of foot problems, a podiatric researcher has warned. Queensland University of Technology lecturer Lloyd Reed said foot problems are widespread among Australian nurses and are likely to worsen as the nursing workforce ages and spends more time on its feet.
NSW Nurses' Association • Standing hazards news and resources
Hazards news, 2 June 2007
USA: US employers make bad stand on chairs
Safeway customer Deana Jordan Sullivan, concerned that checkout workers in her local supermarket were being left standing all their working day, went out and bought stools for them. Safeway officials, however, said: "Thanks, but no thanks."
Risks 291, 27 January 2007
Denmark: Too much standing can land you in hospital
Prolonged standing at work is responsible for the development of serious varicose veins, a new study has found. The authors says the study "suggests that standing or walking at work should be limited and alternate with other positions such as sitting, preferably with the legs in an elevated position."
Risks 235, 3 December 2005